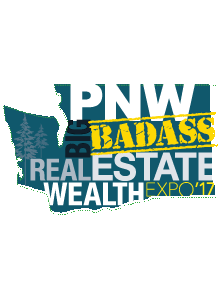 PNW Big Bad-Ass Real Estate Wealth Expo - 2017
Hyatt Regency - Bellevue
900 Bellevue Way NE, Bellevue, WA, 98004
Friday, June 23, 2017 until Saturday, June 24, 2017
Organized by: Fixated Events LLC (Contact)
Event Description
Welcome to the PNW Big Bad-Ass Real Estate Wealth Expo 2017!
CLICK HERE NOW FOR FULL SPEAKER LINE UP AND FULL SCHEDULE OF EVENTS: https://www.pnwbadassexpo.com/
***OVER 400 TICKETS SOLD***Tickets are already selling fast, event will Sell Out, Get Tickets NOW***
Brought to you by the team at Fixated Real Estate:
Are you ready to get after it in the real estate investment arena?
Are you already crushing it in this HOT Seattle market and want to continue taking it to the next level?
Are you wanting to meet the people who are ACTUALLY real estate investing, and not just saying they are?
Want to meet all the people and companies who can help you grow your real estate investing business?
Or do you just want to have a kick-ass time with all your local investor friends and meet some new ones too!?
If you are ready to be immersed with some of the best local real estate investors in the PNW, take your business to another level, or just get started, then The PNW Big Bad-Ass Real Estate Wealth Expo is the place to be this June 23rd and 24th!
What to expect at this Bad-Ass Real Estate Wealth Expo:
Two days of awesome real estate investing education, tools, fun, networking, and No BS content
Intense Friday Night Kick Off Party – Massive networking, focused speakers, live entertainment, and a performance and demonstration from the World's Greatest Hypnotist! (not joking)
The best local investor focused vendors the PNW has to help you grow your business

Hard Money Lenders
Private Money Lenders
Portfolio Lenders
Off Market Property sources
Real Estate Professional and Mortgage needs
Software companies to manage your real estate investing business
Legal and Tax advice
1031 exchange
Contractors and direct material vendors
And many more..!

Focused panel discussions ranging from topics on wholesaling to commercial development
Local investors teaching how they have built a multi-million dollar investment business – from flips to buy and holds

Learn Wholesaling
Better your Fix/Flip Business
Create more Buy and Holds
Learn how to get the financing you need for your next real estate deal
PRIZES and Raffles!
And a hell of a lot more
Who will be attending this event?
Local investors or soon to be investors who want to take their business to the next level, or that just want to have an amazing time with like-minded people
Top investors who are crushing it in this hot market
Newer investors who want to learn how to crush it in this hot market
Money Lenders and other Real Estate Professionals
The person that needs to meet the right people to grow their business with
Someone that loves real estate and wants/is making lots of money at it
The investor that feels stuck and can't seem to get this thing off the ground
Those that need more deals
People looking to connect with other real estate minded people
See Full Event Schedule and Full Event Details Here Now: https://www.pnwbadassexpo.com/
JUNE 23rd – PRE-Event Day
Join us late morning for registration
Meet your local vendors and expo attendees
Focused breakout sessions with local panels and speakers 12-4pm
June 23rd EVENING NETWORKING PARTY!
EVENING MAIN KICK OFF PARTY!! Free drink tickets, Prizes and Raffles, massive networking. Live entertainment and the World's Greatest Hypnotist will perform and teach you how to influence those around you (nervous?)
June 24th – All Day Main Event!
Check in registration 8am
General session starts 9am
All day event with multiple speakers, panel discussions, lunch break, networking, and expo vendors. Final schedule TBD
End time 5pm
Speaker Line Up and Panel Discussions:
Investing in today's hot PNW market
Local Fix and Flip Experts teaching how they are doing it – scale from 1 flip to 10. How do you take your fix/flip business to the next level with Fixated Real Estate.
Wholesaler/Assignment Experts – ever want to wholesale? Ever want to learn to get better at it? Now is your chance
Panel - Raising money and funding your deals, a panel comprised of private and hard money lenders, teaching you how to fund your next deal.
Panel – Developers and builders. A focused panel group of some of the top local developers in the area, how are they doing it? How do you work with them?
Panel – top fix/flip investor panel discussion
Investing out of state for cash flow – Houston buy and hold mogul and Property Management expert, Steve Rozenberg (www.empireindustriesllc.com), will teach how cash flow doesn't just have to come from your back yard. Can't find cash flow deals in Seattle? No Problem.
Find out the Missing Piece to Millions with Marshall Sylver – #1 Leading expert on subconscious reprogramming and irresistible influence, and also better known as "The Millionaire Maker"
Investing in Multi-Family – how you succeed in this business
Commercial Real Estate Investments
Marketing techniques to get your next off market house
A lot more to come and a lot more details to follow!
Final schedule and final speaker line up will be announced shortly
Purchase your ticket today!
For those looking to stay at the Hyatt Regency in Bellevue, a room block is being reserved at a discounted price.